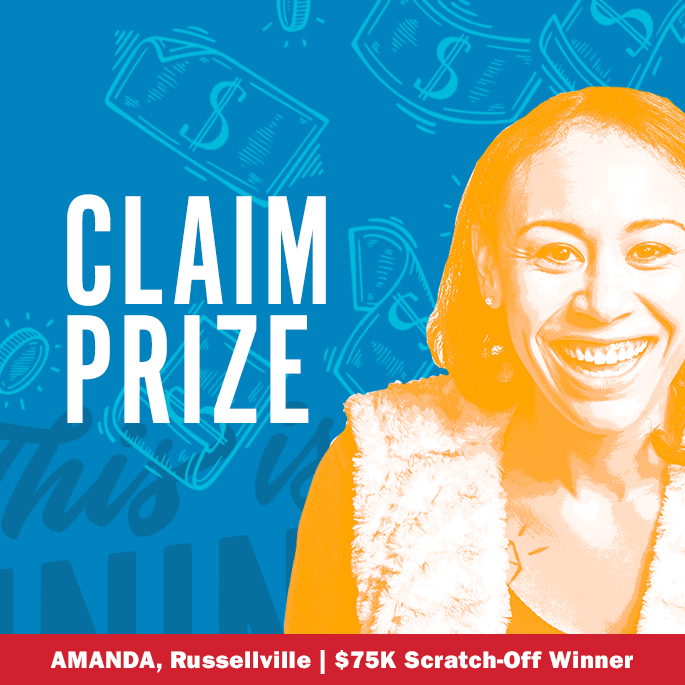 Claim Your Prize
It's easy to claim your prize; follow the steps below
1

Sign Your Ticket
Congratulations on picking the winning ticket!! The first thing you are going to need to do is sign the ticket on the space on the back. Tickets are bearer instruments — if you lose a ticket before you sign it, you no longer have valid ownership of the ticket.
2

Don't Wait
For instant games, players have 90 days from the announced last day to purchase tickets for the game to claim a prize. For an online (terminal-generated) game like Powerball®, players have 180 days from the draw date to claim a prize.
3

Claim Your Prize
There are three ways to cash in:
---
Redeem at any Retailer
You can collect winnings at any Arkansas Scholarship Lottery retailer if the value of your winning ticket is $500 or less.
---
Redeem by Mail
To redeem winnings by mail, print and fill out a claim form. Make a copy of a photo identification card (driver's license, U.S. passport, passport issued by a foreign government, U.S. Armed Forces I.D., U.S. Bureau of Citizenship and Immigration Services I.D.). Mail the signed ticket, claim form, and copy of the I.D. to the following address:
Arkansas Scholarship Lottery Claim Center
P.O. Box 3838
Little Rock, AR 72203
Download your Winner Claim Form here: